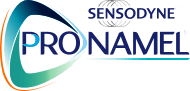 Pronamel
Daily Protection
Protects against the effects of
acid erosion
Strengthens and re-hardens enamel
Cavity protection
Suitable for people with sensitive teeth
Freshens breath
Acids in your diet can dissolve minerals from your teeth, softening its protective enamel surface and making it more susceptible to wear. Pronamel Daily Protection toothpaste is specially formulated to protect teeth against the effects of acid erosion*. It actively strengthens and rehardens acid softened enamel to provide protection against the effects of acid in everyday foods. Its minty taste also helps freshen your breath and leaves a clean feeling in your mouth. Find out more about the Pronamel Science.
*With twice daily brushing
Product Details
Ingredients
Aqua, Sorbitol, Hydrated Silica, Glycerin, Potassium Nitrate, PEG-6, Cocamidopropyl Betaine, Aroma, Xanthan Gum, Sodium Fluoride,
Sodium Saccharin, Titanium Dioxide, Sodium Hydroxide, Limonene, Anise Alcohol

Contains: Sodium Fluoride 0.315% w/w (1450 ppm fluoride) and Potassium Nitrate 5% w/w
This product does not contain SLS (Sodium Lauryl Sulfate).
Directions
Brush twice a day and no more than three times.
Minimise swallowing and spit out
Warnings & Precautions
If irritation occurs, discontinue use. Sensitive teeth may indicate an underlying problem that needs prompt care. If symptoms persist or worsen, see your dentist.
Keep out of reach of children. Not for use by children under 12 years of age unless on the advice of a dental professional or doctor.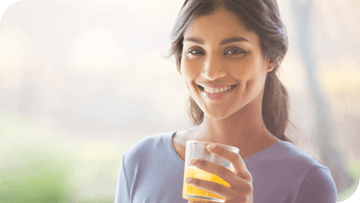 About Enamel
Enamel is the hardest substance in our body, but when it is gone, you can't get it back.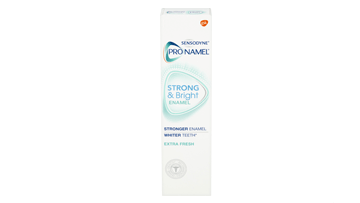 Stronger Enamel. Whiter teeth.*
Pronamel Strong & Bright Enamel, has a unique formulation that delivers minerals to actively help to strengthen your enamel. It also helps to polish away stains for brighter, whiter teeth*.
Discover the Pronamel range here*vs. Sensodyne Pronamel Daily Protection