What Causes Enamel Erosion?
What causes enamel erosion? Having an acid-rich diet can put our teeth at risk and this can happen more easily than you might expect. As few as four acidic "occasions" throughout the day can put our enamel at risk from enamel erosion, also known as acid erosion.
If our diet is healthy, let's not change it. Let's make sure that we're protecting our precious enamel and preventing the causes of enamel erosion. Be proactive. Trust Pronamel every day.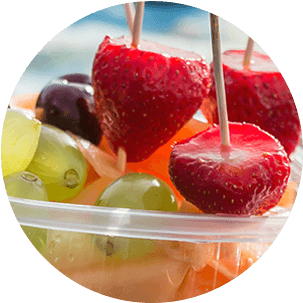 How acidic are your favourite foods and drinks?
Knowing how acidic foods and drinks are can also help you protect your teeth from the effects of acid erosion.
pH is a measure of how acidic (pH < 7) or alkaline (pH > 7 but less than 14) something is. For people concerned about an acidic diet and acid erosion, the most important thing to know is this: the lower the pH number, the more acidic a food or a drink is and the more harmful it will tend to be to your tooth enamel.
Enamel may begin to weaken at a pH of 5.5, therefore you should limit your frequency of food and drink which has a low pH and is more acidic, thereby reducing the risk of acid erosion and the resulting aesthetic impact of dull and yellow teeth over time.
Find out which of your favourite foods are more acidic than others using the table below.

Lemon Juice
Wine
Sports Drinks
Tonic Water
Cherries
Carbonated Soft Drinks, including diet soda
Oranges
Plums
Blackberries, blueberries and strawberries
Grapefruit Juice
Pickles
Vinegar
Apple Sauce
Apple Juice and Apple Cider
Salad Dressing
Cranberries
Orange Juice
Tomatoes
Vitamin C Tablets

Honey
Tomato Ketchup
Seedless Raisins
Beer
Apples
Green Olives
Pesto
Pears
Apricots
Figs
Carrot Juice
Tea (black)
Beetroot Juice

Bananas
Bread
Cheese
Avocados
Broccoli
Cucumbers
Black Olives
Peanut Butter
Milk
Mineral Water